What our support looks like
The Wee Book Company case study
Gavin started his journey into employment with Edinburgh Project SEARCH. He gained valuable work experience and training qualifications with the City of Edinburgh Council and the Scottish Government. He now has a job with The Wee Book Company thanks to Edinburgh's Employer Recruitment Incentives. His new job lets him channel his passion for writing as a Publishing Assistant.
Gavin Keddie joined the Edinburgh Project SEARCH (EPS) programme in 2016 after going to college when he left school. Gavin wanted to find a job but had no work experience and knew that, due to his autism, he would need support to get this. As part of the EPS programme, Gavin completed three 10-week work experience placements. The first was with the City of Edinburgh Council as a Licensing Assistant. He then completed two placements at the Scottish Government as a Business Assistant. Within these roles, Gavin gained the confidence, skills and experience he needed to find his first job.
After the programme, Gavin got a Business and Administration Modern Apprenticeship. He worked in the Business Support team at the City of Edinburgh Council. He spent two years working towards his qualification and building his skills and knowledge. When he completed the apprenticeship, a recruitment freeze meant he wasn't offered a permanent job. But that did not deter Gavin and he managed to find an agency role in the Business Gateway team. While working in these roles Gavin used his free time to become a published author, writing the first in a series of novels. When the agency role came to an end, Gavin continued to look for work while working on his sequels. It was through his writing work that he came to the attention of The Wee Book Company.
The Wee Book Company is a publishing business in the city. They saw Gavin's potential, not just as an author but as an employee. As a new business, they were not able to hire Gavin with their existing resources. Edinburgh's Employer Recruitment Incentives (EERI) changed this. As part of the Edinburgh Guarantee offer, employers who recruit someone with barriers to work can secure up to £6,000 to help with the costs. With this money, they have created a Publishing Assistant post for Gavin which he started in March 2021.
Andrew from the Wee Book Company has said 'Gavin is doing so well in the role, he is learning quickly and developing every day. We had this great employee right under our nose and we really wanted to give him the opportunity to use his skills. EERI has given us the chance to do this for Gavin and grow our business.'
For more information about how your organisation can support the Edinburgh Guarantee, please email edinburghguarantee@edinburgh.gov.uk.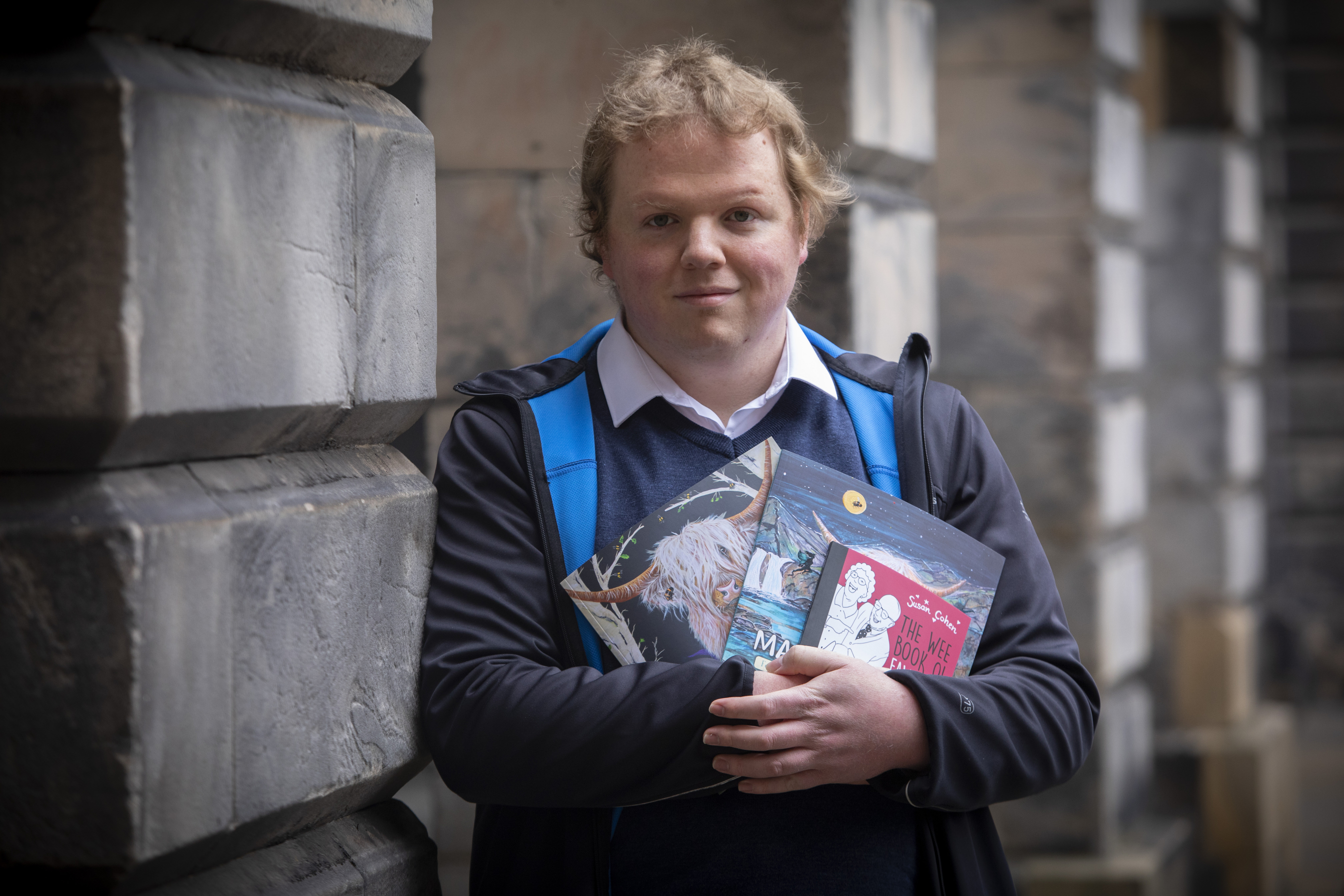 With the funding available to The Wee Book Company them they have been able to create a Publishing Assistant post for Gavin which he started in March 2021.